LaForest Landscaping has been serving the South Bay and Palos Verdes Peninsula with integrity and attention to fine detail for over a quarter of a century!
With thousands of jobs installed throughout the area, we have experience in designing and implementing a landscape plan shaped to your personal needs, in both budget and aesthetics.
Why Choose LaForest?
We could talk about our years of experience (more than 28 as of 2009), about the number of jobs we've done for your neighbors and friends on the Peninsula (over 2000), our extensive knowledge of plants and soil, about our strong design skills, and excellent safety record.
And those things are important reasons to choose LaForest.
However, many of our satisfied customers have pointed out that what truly differentiates us from other landscaping services is our work ethic, our responsiveness, and our integrity.
Why choose LaForest? In short, we're at your location when we're expected, on time and prepared to do the job beyond your expectations. With in-house employees rather than sub-contractors, you'll find our workers are knowledgeable, reliable, and hard working.
We're proud of the end result: Landscaping that is on time, on budget, and suited to your needs.

LaForest Landscaping is an upstanding member of the California Contractor's Association, certified Irrigation Specialist, and retains a Contractor's license. We have an excellent safety record, and maintain Workman's Compensation insurance on all our employees.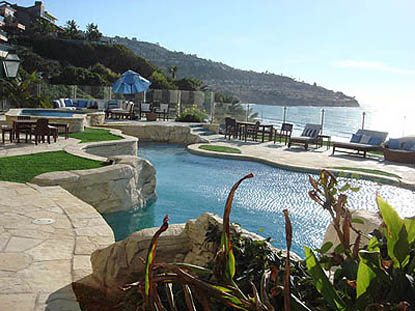 Services Provided
Landscaping & Irrigation
At LaForest, we offer full service landscaping from the design stage through planting, and we're happy to work with your designer or architect. Our Irrigation Specialists can design an appropriate watering scheme.
Hardscape & Lighting
We have vast experience in Spas, Pools, Patios and other stonework, as well as more custom concrete projects. Along with the rest of your project, we'll create a lighting plan to best display your property.
Special Projects
We've done golf greens, muraled fountains, barbecues, and a myriad of other special projects for satisfied customers. Do you have a special request? Just ask!
---
Reasons to Choose LaForest:
Known for our Integrity
On-time Completion of Projects
More than a Quarter Century Experience in the Area
Over 2000 Installations in Various Styles
Competitive Pricing, High-Value for for the price
We Listen and Fulfill Clients' Needs
Extensive Knowledge of Soils and Plants
One-Year Warranty on Installed Work
Detailed Estimates and Explanations
Contractor's License C27573430
Workmen's Comp Ins. C2-97699974-01
Member CA Landscape Contractor's Assoc.
Small Details are Important to Us
In-House Design and Implementation
Excellent Safety Record
Wonderful Cleanup and Respect for Property
No Sub-Contractors
Excellent Equipment of all Kinds